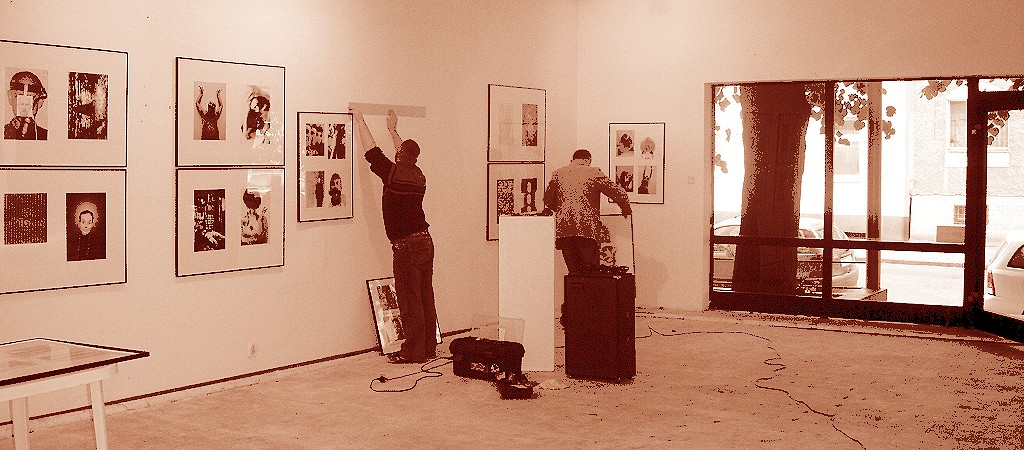 The collection of collective shows
includes the artist's participations in exhibitions and festivals since 2000,
this is good for participating individual art works like , as well as the screening programs as indiviual curatorial works. As for the curated screenings, listing the venues give no information about the programs as "pre-images", as it was outlined in the department of "art & moving images". Therefore some of the listed screening venues are linked with the respective screened programs (pre-images).
It is then also the question, how these "pre-images" are to be defined, as collective shows or solo shows? The listing of the venues does not answer this question definitely. As for the individual artist's participations, the curated festival or exhibition context becomes relevant a "shadow", particularly if the same video was selected for different presentation venues.
In this way, there is a fundamental difference between the solo exhibitions until 1999, and any exhibition or screening context after 2000
Festivals/exhibitions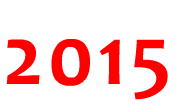 events in France, Russia, India, Greece, Germany, Portugal, Ecuador, Ukraine, Spain, Costa Rica, Argentina, Peru, Ethiopia, Italy
Parachute Light Zero II Paris – 21 & 22 March 2015
Now & After Videoart Festival @ Schusev State Museum of Architecture Moscow – 21 April – 21 June
CeC – Carnival of e-Creativity – North-Eastern Hill University Shillong/India – 01-03 May
TENRI – German-Japanese Cultural Center Cologne – 16 May 2015
FONLAD – Digital Art Festival Coimbra/PT – @ Santa Clara Gallery, Coimbra – 15 May
11th Athens Digital Arts Festival – 21-24 May 2015
Now & After Videoart festival Moscow – @ Museum of Moscow – 1-23 August 2015
MIVA International Videoart Festival – Casa de la Cultura Ecuadoriana Quito – 20 August
Linoleum – Internation Festival of Animation and Media Art – 3-6 September 2015
Zona de Morana Avila (spain) – 11-13 September 201
Konvent Festival Cel-AV – Barcelona – 18-19 September 2015
MIVA _ Centro de las Artes – La Ronda – Quito/Ecuador – 2 October – 8 Nov 2015
VIII Muestra Cortos de la Polis Joven UNED 2015 San Josè / Costa Rica – 30 October
InShadow Festival Lisbon – 26 Nov -6. Dec 2015
VideoBabel – International Audio-Visual Festival Cuzco/Peru – 30 Nov – 3 Dec
Addis Videoart Festival Addis Abeba – 23 DEec 2015 – 3 January 2016
Siracusa International Film & Media Festival – 18-30 December 2015


Florina School of Visual Art2014 – 10 Years Cologne International Videoart Festival List of videos Manuel Ferrer and Alena Mesarosova (Spain/Slovakia) Irreal Time, 2012, 3:30 exDoc – experimental documentary film festival -curator Agricola de Cologne Claudia Borgna (It) Sweep and weep, Weep and sweep, Under, Over, In, Out, Away, 2010, 11:09 CologneOFF VII (Gwermany) curator: Agricola de Cologne QNQ/AUJIK (SWE) A Forest within a Forest, 2010, 5:10 animateCOLOGNE curator: Agricola de Cologne Adele Rackövi (Austria) Croax- Evolution Errors, 2012, 4:00 VideoChannel (Germany) curator: Agricola de Cologne Wei Ming Ho (Taiwan) The Art Qaeda Project, 2010, 4:11 Manipulated Image (Los Angeles/USA) curator: Alysse Stepanian Louise Coetzer (RSA) Dead Air, 2011, 5:12 Letters from the Sky Festival Capetwon (South Africa)- curator: Kai Lossgott Derek Larson (USA) Landscape, 2011, 10:34 STRATA Foundation (Finland) curator: Pekka Ruuska Yuliya Lanina (USA) Dodo Valse, 2010, 2.46 Videoart Festival Miden Kalamata/Greece) curator: Gioula Papadopoulou Juliana Alvarenga (Brazil) Winter Garden, 2010: 03:56 VideoBabel – Videoart Festival Cuzco (Peru) curator: Very Tyuleneva Andre Scucato & Cristina Pinhero (Brazil) Mago, 2005, 3:26 FONLAD – Digital Art Festival (Portugal) curator: Sergio Gomes Dan Hudson (Canada) River, 2011, 3:00 CologneOFF VIII (Germany) curator: Agricola de Cologne (Greece) – 19 January 2014
A Virtual Memorial Milan 2014 – @ [BOX] – videoart Project Space Milan – 25-27 January 2014
A Virtual Memorial Jaffa 2014 – @ Muza Plus – a space for art Tel-Aviv/Israel – 25 January 2014
A Virtual Memorial Timisoara 2014 – @ German Cultural Center – 27 January 2014
1st International Festival of Artistic Film Lublin/Poland – 27 March – 2 April
A Virtual Memorial Moscow 2014 @ State Museum of Gulag Moscow @ Now & After International Videoart Festival Moscow – 2-30 April 2014
RIA The Research & Innovation Ashram, Guwahati/india – 19 April 2014
FONLAD – Digital Art Festival Coimbra/Portugal10 Years Cologne International Videoart Festival CologneOFF X Alienation on Mysterious Networks curated by Wilfried Agricola de Cologne List of videos Isabel Perez del Pulgar (Spain) Latent State, 2013,4:47 Susanne Wiegner (Germany) Inside My Room, 2013, 3:26 Marcantonio Lunardi (Italy) The Choir, 2013, 4:19 David King (Australia) What if You Woke One Day…?, 2013, 1:00 Maya Watanabe (Peru) A-phan-ousia, 2008, 4:45 Allison Berkoy (USA) Another Day, 2012, 4:42 Tessa Garland (UK) Not far from Here, 2013, 5:00 Diego de los Campos Orefice (Uruguay) Meatman, 2011, 5:12 17 May 2014
Direct Action Festival Berlin – 23-25 May 2014
Fonlad Digital Art Festival – 21 June 2014
Videoart Festival Miden Kalamata/Greece 2014 – 10 Years Cologne International Videoart Festival CologneOFF 2014 Greece II @ Videoart Festival Miden Kalamata/Greece CologneOFF XP – Total Art – Alienated Time selected by Wilfried Agricola de Cologne list of videos Heidi Kumao (USA) Swollowed Whole, 2014, 3:53 Maurizio Sanhueza (Peru) Copycat, 2013, 8:12 Francesca Fini (Italy) Little Pills Blues, 2013, Cinzia Sarto (Italy) Forbidden Fruit, 2009, 4.40 Giulia Giannola (Italy) Tinker Tailor Soldier Sailor, 2012, 04:58 Karolien Soete (Belgium) Tempus Fugit , 2013, 3:53 Albert Merino (Spain) Visà vis, 2013, 5.05 Stephen John Ellis (USA) Aus dem Kinder , 2011, 5:14 Brit Bunkley (NZ) By Blood and Water, By Blood and Sand, 2014, 5:37 Ben Skea (UK) Sleep Vessel, 2013, 2:43 Vojtech Zak (CZ) Svetovar Brewery, 2013, 03:18 Gavin Hoffman (Ireland) Complicit, 2013, 4:08 Mani Mehrvarz (Iran) Wistful Affection For The Past, 2013, 3:06 – 3-5 July 2014
ARES International Film and Media Arts Festival Siracusa/Italy 5-7 August 2014
Waterpieces Video &Art Festival Riga/Latvia – 15-17 August 2014
International Videoart Festival – Quito/Ecuador – 23 August – 14 September 2014
Institut fuer Alle Moegliche Berlin – 4 September 2014
Muza Pluz – a space for art Tel-Aviv (Israel)2014 – 10 years Cologne International Videoart Festival CologneOFF 2014 Israel @ Muza Plus – a space for art Tel-Aviv Israel CologneOFF X – Total Art – Alienated Territories curated by Wilfried Agricola de Cologne list of videos Johanna Reich (Germany) Horizon, 2013, 1:00 Felice Hapetzeder (Sweden) 366, 2014, 1:24 Rick Fisher (Canada) Arcadia, 2014, 4:49 Cinzia Sarto (Italy) Forbidden Fruit, 2009, 4.40 Lisa Birke (USA) Red Carpet, 2013, 9:59 Alexandar Tokin (Serbia) She Is I, 2013, 9:17 Sara Holwerda (USA) Chair Dance, 2012, 6:26 Beate Hecher/Markus Keim (Austria) ln Absentia, 2012, 10:00 Yuval Yairi & Zohar Kawaharada (Israel) Land, 2013, 4:36 Vojtech Zak (CZ) Melancholia, 2013, 3: 25 Manuel Saiz (Spain) Sic Transit, 2009, 5:00 vvitalny (Tusia Dabrowska & Clara Ines Schuhmacher) (USA) In Peru, 2013, 3:05 13 September 2014
Onomato e.v. Düsseldorf/Germany – 25 September 2014
10th Athens International Videoart Festival – 3-5 October 2014
Damen & Herren – Düsseldorf/Germany – 10 October 2014
Proyector Videoart Festival Madrid – CologneOFF 2014 Spain CologneOFF X – 10th Cologne International Videoart Festival @ Proyector Videoart Festival Madrid Alienating Power(s) curated by Agricola de Cologne list of selected videos, Johanna Reich (Germany) Phoenix, 2012, 3:20 Sanglim Han (S.Korea) Bloom, 2012, 3:35 Giovanni Bucci (Italy) Never-Never, 2013, 3:44 Gabriele Tosi (Italy) The Extreme Challenge, 2014, 4:56 Kaiser Nahhas (Syria) Anti Censoship Protest at Taksim, 2014, 2014, 4:27 Mr MVIN (Spain) BREAK GLASS IN CASE OF CRISIS, 2013, 1:50 Alexander Yeltsin (Ukraine) Warning, 2014, 5:37 Weigang Song (China) Walling Dissensus, 2014, 5:01 Sandra Dollo (Italy) Tweng, 2013, 2:15 25 October – 14 November 2014
Torrance Art Museum Los Angeles/USA – 6 Nov – 6 December 2014
Euro Shorts Film Festival Warsaw/Gdansk – 26 November 2014
Euro Shorts Film Festival Warsaw/Gdansk – 26 November 20144
Parachute Light Zero Paris – 21 November 2014
VideoBabel Festival Cuzco – 24-27 November 2014



.
ArtFilm Guwahati/India – 26 January 2013
Nordic House Reykjavik/Iceland – 7-10 February 2013
Aferro Gallery Newark/NJ (USA ) – 23 Feb – 30 March 2013
CeC- Carnival of eCreativity – Sattal/India – 22-24 February 2013
2nd International Motion Festival Nicosia/Cyprus – 22-24 March 2013
Be There! – Corfu Animation Festival- 4-7 April 2013
Now & After – Videoart Festival Moskow – 22 April – 5 May 2013
Contemporary Art Centre Tbilisi – 16-18 May 2013
FONLAD – Digital Art Festival Coimbra/Pt – 25 May 2013
Mudas Fest Madeira – 24-26 May 2013
Detmold International Shortfilm Festival – 31 May- 9 June 2013
Athens International Videoart Festival – 7-9 June 2013
Videoart Festival Miden /Kalamata/Greece – 4-7 July 2013
Festival Image Contre Nature Marseille/F – 11-13 July 2013
Ares Film Festival – Siracusa/Italy – 11-14 July 2013
Quest Europe Film festival Zielona Gora/PL – 17 July -25 Aug 2013
Strata Foundation Finland- 24 August 2013
Vetlanda Museum/art:screen Sweden – August/September 2013
JICC Vilnius – 23 Sept – 27 Oct 2013
Regional Museum Kedianiai/Lithuania – 02-29 October 2013
The Scientist Videoart Festival Ferrara/Italy – 11-13 October 2013
Ionian International Digital Film Festival Levkas- 9-12 Oct 2013
The Museum of the History of Polish Jews Warsaw 25-31 Oct 2013
Alternative Film Festival Tirgu Mures – 6-10 November 2013
VideoBabel – Videoart festival Cuzco/Peru – 25 Nov-19 Dec 2013
Florina School of Visual art – Florina/Greece – 3 Dexcember 2013



.
Cinema Perpetuum Mobile Minsk – 16-18 January 2012
Bangkok Experimental Film Festival – @ Goethe Institute Bangkok 1 February 2012
CeC – Carnival of eCreativity Sattal/India – 24-26 Februray 2012
Generation Loss Festival Manila – 2-16 March 2012
International Short Film Festival Prokuplje/Serbia 13 March 2012
Anemic: Festival of Independent Film & New Media 20 March 2012 @ Alliance Francaise Prague
FONLAD – Digital Art Festival Coimbra/Pt – 14-28 April 2012
8th Festival Internacional de la Imagen Manizales/Colombia- 16-20 April 2012
ARTchSo Video Festival Rennes – 26 April – 9 May 2012
Athens International Video Art Festival – May 2012
Urban Culture and Fire Festival Minsk 18-20 May 2012
One Shot – International Film Festival – May 2012
Culture and Arts Project NOASS Riga/Latvia – 1-30 June 2012
Now & After Festival Moscow – Museum of Contemporary Art 3 June 2012
Polytechnical University Valencia – 21-26 June 2012
Fundacion FIART @ Electrocuciones Madrid/Spain – 1#minuteCologne – 5 July 2012
Videoart Festival Miden Kalamata – 5-7 July 2012
Festival Image Contre nature/Marseille/F – 12-14 July 2012
Meta House Phnom Penh/Cambodia – 12-15 July 2012
Generation Loss Festival Manila – July 2012
VideoBabel Festival Cusco/Peru18 July 2012
Linoleum Animation & Media Art Festival Moscow 10 July – 09 September 2012
Ares Film & Media Festival Siracusa/ItalyJuly/August 2012
National Cinematheque Quito 24 August 2012
XI International Kansk Video Festival 17-25 August 2012
Waterpieces Conemporary Art and Video Festival 2012 16- 19 August 2012
Busho – Budapest Short Film Festival – 4-9 September 2012
Ionian International Digital Film Festival – September 2012
art:screen Festival Orebro/Sweden – 4-7 October 2012
Fine Arts Film Festival Szolnok/Hungary – 11-14 OctoberOctober 2012
Warsaw Jewish Film Festival – Shoah Film Collection 25-30 October October 2012
ExTeresa Art Actual Mexico City/MX – 18 & 19 October 2012
Anima – International Animation Festival Banja Luka /Bosnia -23-28 October 2012
FIVA – Videoart Festival Buenos Aires -5-7 Nov 2012@ Biblioteca Nacional Buenos Aires
EuroShorts Film Festival Gdansk/Poland – 21-25 Nov 2012@ Laznia – Contemporary Art Centre Gdansk
Digital Marrakesh Festival – 6-8 December 2012
Proyector Videoart Festival Madrid/Spain – 14-23 December

(27)
Optica Video Festival Buenos Aires (Ar) – 15-17 December
Digital Marrakech (Mo) – 9-11 December
Centro de las Artes San Luis Potosi – 8 December 2011
Videoart Festival Camaguey (Cuba) – 25-29 Nov
UAM – Universidad Autonoma Metropolitana Xochimilco Mexico City/MX – 14-18 November 2011
ExTeresa Arte Actual Mexico City (MX)– 10 & 11 November
Bernado's House Museum FONLAD Coimbra (PT) – 15 October
Encuentro en Zona de Moraña (Spain) – 9-10 Sept
Optica Video Festival Madrid – 16-18 Sept
Riga (Latvia) – Waterpieces Contemporary & Video Art Festival – 8-10 Sept
Beirut (Lebanon) – Shams – The Sunflower – 31 Aug – 3 Sept
Proyector Video Art Festival Madrid (Spain) – 14 July
Tallinn (Estonia) – Estonian Academy of Art – 1 & 2 June
Tampere (Finland) – Gallerija Rajatila – 26 May
St.Petersburg (Russia) – ProArte – 20 May
St.Petersburg (RU) – NCCA – National Center for Contemporary Art – 21 May
Szczecin Cultural Observatory 2016 (Poland) – 12-14 May
Arad Art Museum (Romania) – CologneOFF 2011 Arad – 31 March – 2 April 2011
City Art Gallery Kharkiv (Ukraine – CologneOFF Ukraine – 17-19 March 2011
Goethe Institut Ukraine Kiev – CologneOFF 2011 Ukraine – Centre for Contemporary Art – 14 March 2011
Traverse Video Festival Toulouse – Centre Culturel Bellegarde – 24 March 2011 – Orfeo Negro
Keuruu Museum /Fi – CologneOFF 2011 "Imagening the Real" – 11 Feb – 31 March 2011
CeC – Carnival of e-Creativity Sattal/India – CologneOFF 2011 – 18-20 Feb 2011
Vaikopaine Jyväskyla/Fi – CologneOFF 2011 – Imagening the Real" & Privat Space – Open Space?" – 10 Feb 2011
Electrocuciones Festival Madrid – 1-16 February – "Silent Cry"
Prima Piano Gallery Lecce/IT – Language is a Virus – 08 Feb – 16 Feb 2011
Rotterdam International Film Festival – CUCOSA Art Space – 26 Jan- 6 Feb 2011


(41)
2nd THERMAIKOS INTERNATIONAL FILM FESTIVAL Thessaloniki/Gr – 30 October 2010
Videoart Festival Giessen/Germany –
2nd Orebro International Videoart Festival – Art VideoScreening 1-3 Oct 2010 –
International Film Festival Naoussa/Greece 30 Sep – 3 Oct 2010
Festival internacional de cine y video alternativo – La Paz/Bolivia, 17 – 24 September
Simultan Festival Timisoara/Ro – 30 Sept – 2 Oct 2010 – CologneOFF VI
Künstlerhaus Wien . Inter-Netart – lecture – 16 September 2010
[BOX] – space for videoart Milan – 14 Sept-7 Oct 2010
"Festival Mediu Güeyu", Fundacion Cardin -Villaviciosa (Asturias, Spain) 3-5 September 2010
International Film Festival in Walthamstow (London/UK) – 3-12 September 2010
BuSho – Budapest Internation Shortfilm Festival – 1-5 September 2010 –
MiniVideoartFestival @ Eyedrum Art & Music Gallery – 20 August 2010 – Atlanta/USA –
One Minute Film Festival Aarau/CH – 19-22 Aug 2010
memo.real project.collateral /august in art biennial.varna 2010 – 12-17 Aug 2010
Videoholica Videoart Festival Varna/BG – 10-17 Aug 2010
Festival Image contra Nature – Marseille/F – 14-17 Jaly 2010
"Festival Proyector 2010? – Optica Videoart – Espacio Menos Uno Madrid (Spain) 5-31 July 2010
Galería Texu Oviedo (Spain) Optica Video Art – 5-31 July 2010
Videoart Festival Miden Kalamata/Greece – 8-10 July 2010
4th Gaza International Videoart Festival – Gaza/Jerusalem/Ramallah/Rafah/Jabalia/Bethlehem – 19-24 June 2010
AllArtNow International New Media Art Festival Damascus/Syria – 25-30 May 2010
Transfera/ Madrid- broadcast 21 & 22 May 2010
Electrocuciones – El Foro de Pozuelo Madrid – 18 May – 5 June 2010
Loop Video Festival Barcelona – Optica selection – 13-17 May 2010 –
Fonlad – Digital Art Festival- 15-28 May Coimbra/PT
One Shot – International Shortfilm Festival Yerewan/Armenia – 17-24 May 2010
The International Video Art Activity Canakkale-Turkey – 14-15 May 2010
Athens Video Art Festival – 7-9 May 2010
Werkraum Berlin – Time is love – curated by Kisito Assangni – 30 April – 2 May 2010
CAM Casoria/Italy – Videoart Screening – 17 April 2010
Advertsing Life – Azyl One Minute Festival Bratislava/SK 31 March – 1 April 2010
Emergenzaarte – videoart festival – Santa Maria die Sale (Venice) – 10 April – 25 2010
Oslo Screen Festival – 12-14 March 2010 – Oslo/Norway
Traverse Video Festival Toulouse/France – 12 March 2010
Videoformes – Clermont-Ferrand (F) – 10-28 Match 2010
Manipulated Image in cooperation with VideoChannel @ the Santa Fe Complex . USA – curated by Alysse Stepanian & Wilfried Agricola de Cologne – Friday, 10 March
CeC- Carnival of e-Creativity Sattal/ India – 19-21 Feb 2010
Urban Reasearch – Directors Lounge Berlin 11-19 Feb 2010


(61)
Rauland Kunstforeningen Rauland/Norway – 30 December 2009
Yogyakarta International Videowork Festival #05 – 11 – 20 dec 2009
Arnolfini Bristol/UK – unCraftivism – 12-13 December 2009
MADATAC 2009 – Experimental Videoart Festival Madrid – 10-12 December 2009
Visions in NYC art Art Basel Miami, Verge Fair – 5 December
FIFE 2009 – Experimental Film Festival Baia Mare/Romania – 26-27 Nov 2009
FONLAD – Digital Art Festival Guarda/Portugal – 24 & 25 Nov
Microwave – New Media Arts Festival Hongkong – 13 Nov-11 Dec 2009
Fonlad – Digital Art Festival Coimbra/PT – Nov 2009
Visions in New York – shortfilm Festival NY/NY
2nd THERMAIKOS INTERNATIONAL 2min FILM FESTIVAL 2009 Thessaloniki/Gr
Rocca dei Rettori Benevento/Italy – Squadri Sonori Festival
Cultural Centre San Martin Buenos Aires/AR – Optica Festival Review '09 – 5-7 November 2009
MEM Festival Bilbao/ES – Optica Festival review 2009 – 4 & 19 November 2009
Videoart Festival Giessen/Germany – 30 October 2009
Optica Videoart Festival Gijon/Soain – 29-31 October 2009
ShootOFF – Experimental Videoart Festival Paris – 17-23 October 2009
Art Video Screening – Orebro/SWE – Bio Roxy – 17 October 2009
Optica Videoart Festival Madrid- La Casa Encendida Madrid/Spain – 15-17 October 2009 y
Scuderie Aldobrandini Frascati – Rome/Italy – Squadri Sonori Festival – 2 October 2009
"…a very loud silence" curated by Avantika Bawa at Le Flash Festival Atlanta/GA – curated by Cathy Byrd and Stuart Keeler – 2 October 2009
Optica Videoart Festival Optica – Centro Contemporaneo Huarte/Navarra – 29 September – 2 October 2009
Optica Videoart Festival Paris/France – 24-26 September 2009
Digital Fringe Melbourne (Aus) – 32 Sept- 11 Oct 2009
Optica Video Festival Cordoba/Spain – 11-13 September 2009
FestiNova Festival Garikula/Georgia – 5 Aug – 20 Oct 2009
Studio 29 Club Screening London/UK – 7 September 2009 – Silent Cry
Optica Video Festival – Buienos Aires/Argentina – National Bibliotheque – 27-29 August 2009
Optica Video Festival La Paz/Bolivia – 20-26 August 2009
Int. Film & Video Festival Aarau/CH – 21-23. August 2009
FONLAD Collection at MIDAC – Museo Internazionale Dinamico di Arte Contemporanea, Belforte del Chienti, Italy 1 – 30 August 09
Villa d'Este Rome/Italy – Squadri Sonori Festival – 1 August 2009
FILE – Electronic Language Festival Sao Paulo/Brazil – 27 July – 30 August 2009
FILE – Hipersonica Festival Sao Paulo/Brazil – 27 July – 30 August 2009 – SoundLAB – soundPOOL
OK Video Festival Jakarta/Indonesia – 28 July -6 August 2009
Image Contre Nature – experimental Film Festival Marseille/F – 7 July 2009
Image Contre Nature – experimental Film Festival Marseille/F – 7-11 July 2009
VideoFestival Celje/Slovenia – 2-5 july 2009
Videoart Festival Miden Kalamata/Greece – 12 July 2009
Videoart Festival Miden Kalamata/Greece – 10-12 July 2009
Crosstalks Videoart Festival Budapest/Hu – 25-30 June 2009
53th Venice Biennale – Scalamata Gallery -"Souvenir Art" – International Artists Museum – curated by Doron Polak & Esti Drori –
– in the frame work of Détournement, Venice 2009 – Collateral event of the 53rd Biennial of Arts, Venice – 6-26 June 2009
MUV – Music & Digital Art Festival Florence/Italy – 9-14 June 2009
5th FF600 Shortfilm Festival Lubljana/Slovenia – 28 & 29 May 2009
7th Int. Film Festival Yerewan/Armenia – 17-24 May 2009
Palazzo Barberini Video Screenings – Senigallia/Italy
Ceramic Museum Lisbon/PT – 16 May 2009
International Film Festival Naoussa/Greece 8-11 May 2008
"Bivouac Project – The Big Switch: New Media, Film and Video" – Sumter County Gallery of Art (USA) – 2 April- 22 May 2009
Gallery La Sala Cigüñuela/Spain – 17-29 April 2009
FILE Rio de Janeiro/Brazil – 10-19 April 2009 – Oi Futuro Cultural Centre Rio de Janeiro/Br
Streaming Festival – Geborgen Kamers – The Hague/NL – 15-17 April 2009
Nuit de Video – Goethe Institut RabatMorocco – 2 April 2009
Brancaleone Club Rome – screening 14 March 2009 –
700IS Reindeerland Film & Video Festival Iceland – 27-28 March 2009
Guildford Lane Gallery. Melbourne, Australia – 25 Feb – 8 March 2009
Videoformes – Festival of Video & New Media Clermont Ferrand/F – 11 – 27 March 2009
Art Of Emergency – Artneuland Gallery Berlin/G – 5 Feb-15 March 2009
CeC – Carnival if e-Creativity Sattal/India – 27 Feb – 1 March 2009 –
International Film Festival Jelenia Gora (PL) – 17-22 February 2009 – Jelenia Gora (PL)
MidEast Film Festival for alternative shorts Copenhagen/Roskilde (DK) – 29 January – 1 February 2009


(49)
FocFest 2008 – Fábrica do Braço de Prata Lisbon (Portugal) – 4-6 Dec 2008
FocFest 2008 – ACCEA – Armenian Center of Contemporary Art Yerwan (Armenia)- 4-6 Dec 2008
FocFest 2008 – Ciplak Ayaklar Studio Istanbul/Turkey – 6-7 Dec 2008
Art Tech Media Cordoba '08 – 25-27 November 2008 – Cordoba/Spain
FIFE 2008 – 3rd Experimental Film Festival Baia Mare /Ro – 14-15 Nov 2008
Shoot OFF Video Festival – Espace Canopy Paris/F – 13-23 Nov 2008
Instants Video Marseille – screening at Marseille – 10 November
24 Hours of Nuremberg Shortfilm Festival – Nuremberg/GER – 7 & 8 Nov 2008
Optica Videofestival Gijon/Spain – 6-8 November 2008
Sound: Space 2008 at MediaLAB South Hill Park Bracknell/UK – 1 November 2008
13th Canariasmediafest 2008 Gran Canaria (Spain) – 28 Oct – 1 Nov 2008
Streamingfestival The Hague/NL – 23-26 October 2008
Transfera TV Madrid: screening "One Day on Mars" – 24/25 October 2008
Transfera TV Madrid: screening "Inability .." & "Bareback.." – 17/18 October 2008
Optica Videofestival Madrid/Spain 16-18 October 2008
Instants Video Marseille – screening at Saint Denis (France) 16 October
Sguardi Sonori 2008 Festival of media and time based art
CAM_Casoria – Casoria (Napoli) – 5-30 October
6th Salon de Arte Digital Maracaibo Venezuela – Museum of Contemporary Art MACZUL Maracaibo/Venezuela – 1-8 October 2008
Digital Fringe Melbourne/AU – 24 Sept- 12 October 2008
2nd AZA Digital Cinema Festival Thessaloniki/GR – 25-27 September 2008
Madeira International Art Biennale – FONLAD – 1 September – 13 October
FONLAD 4 – Digital Art Festival Coimbra/Portugal – 1 September – 30 November 2008
Yeosu Art Festival Yeosu/S.Korea – 29 Aug-20 Sept 2008
MiniMinutes Film & Video Festival Muenster/GER – 29-30 August 2008
One Minute Film & Video Festival Aarau/CH – 22-24 August 2008
Videoholica – August in Art Biennial Varna/BG – 8-15 August 2008
FILE – Electronic Language Festival Sao Paulo/Brazil – 3-31 August 2008
FILE 2008 – Hipersonica Festival Sao Paulo/Brazil 3-31 August 2008
Sguardi Sonori 2008 Festival of media and time based art
Rocca dei Rettori (Benevento) 20 August – 10 September
ISEA 2008 Singapore – 25 – 30 July 2008
Sguardi Sonori 2008 Festival of media and time based art – Villa d'Este/ Tivoli (Roma) – 25 – 30 July
Videoart Festival Miden Kalamata/Greece – 4-6
Experimental Film Festival Images contre Nature Marseille/F – 2-5 July 2008
Sguardi Sonori 2008 Festival of media and time based art – Lanificio Conte – Schio (Vicenza) – 7 -18 June
Sguardi Sonori 2008 Festival of media and time based art – Palazzo Orsini/Bomarzo (Viterbo) – 21 June – 10 July
Rendez-vous des Quais – Marseille/France – Festival Image contre Nature – 19 June –
International Film Festival Naoussa/Greece 8-11 May 2008
Cyprus International Short Film Festival Nicosia/Northern Cyprus – 25-27 April 2008
Video Art Screenings Orebro/Sweden 17-18 April 2008
Athens International Video Art Festival 2008 (Greece) – 11-12-13 April 2008
Secret PORTraits – UAVM/VIRTUAL MUSEUM Coimbra/Pt – 4 April-31 May
Artpool Budapest/Hungary – Budapest Spring Festival – Dimensioniste World Meeting – 19-28 March 2008
Videoformes – Int. Festival of Video & New Media Clermont-Ferrand (F) – 11-15 March 2008
Traverse Video Festival Toulouse/France – 11-15March
The French Cultural Centre Andrè Malraux Sarajevo/Bosnia-Hercegovina – Videosalon 3 – 7-21 March 2008
FILE – Electronic language Festival Rio de Janeiro/Brazil – 26 February – 29 March 2008
CeC & CaC – India International Centre New Dehli/India – 15-17 February 2008
Les Inattendus Film Festival Lyon/F – 25-28 January 2008
Kinolevchyk Videoart Festival Lviv/Ukraine – 23 Dec 2007 – 21 Jan 2008


(55)
Instant Video Festival Marseille/France – 12 December 2007 –
Videoart by Viva Festival at cimtec Sevilla transit -10-15 December 2007
2nd Bursa International Film Festival Bursa/Turkey – 7-13 December 2007
Atomic Unicorn – 1st edition of online mag – feature December 2007
Bigscreen Festival Kunming/China- 27 November – 2 December 2007
"Desert Generation" – Meneer De Wit Gallery Amsterdam/NL – 22 November -02 December 2007
"Laisle Videotape and Sound" at Espaço 27 Rio de Janeiro/Brazil – 16 November 2007
VIP Art Gallery Belgrade/Serbia – 19 November 2007
Experimental Film Festival Cyprus – 24 November 2007 –
3rd Digital Art Festival Rosario/Argentina – 15, 16, 17 November –
Optica Video Festival Gijon/Spain – 16-18 November 2007 –
FIFE 2007 – Experimental Film Festival Baia Mare/Romania – 16-17 November 2007
24 hours of Nuremberg – 9-10 November, FilmHaus Nuremberg/Germany
Belle Arte Lamia Video Art – Lamia/Greece – 9 November – 2 December 2007 –
Le Studio Art & You Paris/F – 13-31 October 2007 –
Szemlétek Audiovisual Filmfest and Art Meeting Pécs (Hungary) – 25-28 October 2007 –
Streaming Festival The Hague/NL – 25-28 October 2007 –
DigiFestival Florence/Italy – 25-28 October 2007 – www.digifestival.net
1st Digital Art Festival Bahia Blanca/Argentina – 13-14 October 2007
ShootOFF L'Espace Canopy Paris 6-14 October 2007
Nuit Blanche – L'Espace Canopy Paris 6 October 2007
International Documentary Film Festival Srebrenica/Bosnia-Hercegovina – 28-30 September 2007
SENEF – Seoul Net & Film Festival Seoul/South Korea – 6-16 September 2007
Signal 5 Festival – INSIDE OUT Crytal Palace London/UK – 8 September
VideoMinuto Festival – Centro de Arte Contemporaneo Pecci Prato(Italy) – 7-9 September 2007
FILE Hipersonic Festival Sao Paulo/Brazil – http://www.file.org.br – 13 August – 9 September 2007
FILE – Electronic Language Festival Sao Paulo/Brazil – http://www.file.org.br – 13 August – 9 September 2007
Mobile Institute – Cinema Styx Bruxelles/Belgium – 24 August 2007
International Shortfilm Festival Budapest/Hungary – 3-7 August 2007
Outvideo Festival Ekaterinburg/Russia – – 5 July – 7 August 2007
P'Silo/Festival Images contre Nature – Marseille/France – – 22 June – 07 July 2007 – House of Tomorrow
Video Art Festival Celje/Slovenia – 6-8 July 2007
ENTER Caravansarai Istanbul/Turkey – 27-30 June 2007
Netart Project "San Pietro di Carpignano" – Spazio Arte Contemporanea Sperimentale Quiliano/Italy – June 2007
ArtChannel Paris – "13Sévigné" Gallery Paris 14-23 June 2007 – art videos
Documenta 12 Kassel/Germany Divine_in.tent – curated by Doron Polak & Amir Cohen – 52 Venice Biennale – Divine_in.tent – curated by Doron Polak & Amir Cohen – 7-30 June 2007
Kibbutz Art Gallery Tel-Aviv/Israel – The Desert Generation – opening 26 June 2007
Tantur – Jerusalem/Bethlehem boarder – IPCRI event 8/9 June 2007 – The Desert Generation
Jerusalem Artists' House Jerusalem/Israel – The Desert Generation – 5-11 June 2007
Izolenta – Digital Film Festival St. Petersburg/Russia – 11-13 May 2007
Fonlad – Digital Art Show – Quarteirão das Artes Montemor-o-Velho (Portugal) – 5 May – 15 July 2007 – En [code] ed
Visions in the Nunnery – The Nunnery Gallery London/UK – 19 & 20 May 2007 –
Version07 Festival – The Insurrection Internationale – – April 19 – May 6, 2007 – Chicago, USA
unDEAF Festival /Dutch Electronic Art Festival 2007 – 10-15 April 2007 – Rotterdam/Netherlands –
Video Art Screenings Västerås, Sweden- 26/27 March, 23/24 April, 21/22 May –
Zemos'98 – Videofestival Sevilla 2007 – 9th edition – 19-25 March 2007 –
Webbiennial 2007 – Istanbul Museum – www.webbiennial.org
FILE – Electronic Language Festival Rio de Janeiro – 01 Futuro Cultural Center – 19 March -24 April
VidFest07 – Museum of New Art Detroit/USA – 9-30 March 2007
Videoformes – International Festival of Video and New Media Clermont-Ferrand/Fr – 13-17 March 2007
ArtChannel Paris – Videoformes Clermont-Ferrand/F 13-17 March 2007
India International Center New Dehli – CeC & CaC – The Carnival of e-Creativity & Change-agents Conclave – 9-11 February
MAGMART Videoart tour – Trip Naples/Italy – 12 January –


(50)
• Netspace: Travel to art on the Net – MAXXI – National Museum for Art of XX! century Rome/Italy – curated by Elena Giulia Rossi – 2 December 2006 – 28 February 2007
Video Dialoghi 2006 – French Cultural Institute Torino/Italy – curated by Willy Darko, Lorena Tadorni – 13-16 December
Artneuland Gallery Berlin/Germany – 25 November 2006 -24 February 2007-
2nd Digital Art Festival Rosario/Argentina – 16, 17, 18 November 2006
ArtChannel Paris – MAC -Manifestations d'Art Contemporain Paris November 2006
8th CHROMA – Festival de Arte Audiovisual Guadalajara/Mexico -11-17 November
2nd Digital Art Festival Fonlad Bissaya Barreto Foundation Coimbra/Portugal – 3-26 November
Hara Museum of Contemporary Art Tokyo/Japan – 25-26 November 2007 // VIVA – Vital International Video Art
Visionaria Film Festival Siena/Italy – 20 October – 20 November 2006
MAEM 2006 – Mostra de Arte Electronico Mostoles Centro Cultural Mostoles (Madrid) – 17-18 November
Biennale 3000 Sao Paulo by Fred Forest MAC – Contemporary Art Museum Sao Paulo – 7 October
5th Salon de Arte Digital Maracaibo/Venezuela 1-8 October-
Canariasmediafest '06 – Gran Canaria/Spain31 October – 04 November
Carbunari 2006 – 3rd Experimental Film Festival Baia Mare /Romania – 16 & 17 October 2006
PI 5 Video Festival Szczecin/Poland – 20-22 October 2006 – National Museum, Officyna Art Space Szczecin/Poland
International Panorama of Independent Film and Video Patras/Greece – 23 – 30 September 2006
PixelDance II – Video :: Art :: Festival Thessaloniki/Gr
ArtChannel Paris – Emergences Festival Paris September 2006 – art videos
*Luksuz Film Festival Lubljana/Slovenia September 2006-
PLAY IV Video Art Festival Buenos Aires/Argentina 24-27 August 2006
FILE – Electronic Language Festival Sao Paulo/Brazil FILE Poetry 15 August – 03 September 2006
Al Kahf Art Gallery Bethlehem/Palestine 06 -30 July 2006
VIVA – Vital International Video Art De Stad als Theater Zwolle/Netherlands – 28 June – 02 July 2006
Moskow International Film Festival – 28 June – 02 July
Outvideo Festival Ekaterinburg/Russia 5 June – 5 July 2006
VIII SALON Y COLOQUIO INTERNACIONAL DE ARTE DIGITAL digital art festival in Havanna/Cuba – 19 June – 16 July
D-NEFF – experimental video festival Vitoria-Gasteiz/Spain 12-13 June 2006
Intro Out – Digital Art Festival Thessaloniki/Greece digital videos – 1-8 June 2006 –
Camargo Cibernetico – Electronic Art Festival Camargo/Spain 29 May – 02 June 2006
MAF'06 – Media Art Festival Bangkok/Thailand – 02-04 May 2006
Pixeldance Festival Thessaloniki /Greece – 12-15 May 2006
The Streaming Festival – The Hague/Netherlands – – – 9-12 May
Confluencias 2006 – Art and Technology Festival Huelva/Spain –– 9-12 May
Unauthorized Access Festival St. Petersburg – Hermitage Museum St. Petersburg/Russia 7-21 April
Bele.ArteLamia 2006 – Lamia (Greece) videoart – 7-16 April –
Athens Video Art Festival 7-9 April – Athens/Greece-
FILE – Electronic Language Festival Rio de Janeiro – Cultural Center Telemar – 20 March -20 April
Ecopoetics: The Finger Lakes Environmental Film Festival -Ithaca University/USA – 30 March-6 April
Festival Audiovisual Zemos98_8 – Sevilla/Spain 14-18 March
Videoformes 21th International Video & New Media Art Festival – Clermont-Ferrand (France) – 14-18 March
5th Biennale de la Photo et des Arts visuels de Liège MAMAC (Musée d'Art Moderne et d'Art Contemporain de Liège) 18 February. – 31 March 2006
Metu Video Festival Ankara/Turkey – 2-4 March
Japan Media Arts Festival Tokyo/Japan – 24 February – 5 March
Fundación Luis Seoane, La Coruña: 20 February – 20 March –"Violencia sin cuerpos"
Heaven Gallery Chicago/USA Winter Screening 18 February – December Mysteries
Mediateca -CaixaForum-, Barcelona 14 February – 7 April – "Violencia sin cuerpos"
Paço das Artes Sao Paulo/Brazil Laisle Entertainment! -video screening – 6 Feb – 5 March
India International Center New Dehli – CeC & CaC – The Carnival of e-Creativity & Change-agents Conclave – 27-29 January
Magmart Videoart Festival Naples 21-29 January 5 videos –
The Art Gallery of Knoxville/USA "Global Groove" – 01 – 25 January


(52)
*VidFest05 – Video Festival Museum of New Art MONA – Detroit/USA – Jan-Feb –
*Videoformes 20th International Video & New Media Art Festival Clermont-Ferrand (France)
*Mus̩e du Ranquet Clermont-Ferrand (France) Р14 Р19 March
*Festival Audiovisual Zemos98_7 Sevilla/Spain 1-6 March
*MAF'05 – New Media Art Festival Bangkok 2005 – 25 – 28 February
*ZKM Karlsruhe/G – MAKING THINGS PUBLIC – Fair Assembly curated by Steve Dietz – March-August 2005
*Museo National Arte Contemporanea Reina Sofia – 31 March – 8 May
*The Hong Kong Artists Biennale 2005 – 1-30 April
*Images Festival Toronto – 7 – 16 April
*Version'05 Festival Chicago/USA- 25 April – 1 May
*Israeli Digital Art Lab Holon/Israel – Hilchot Shchenim Chapter C – 16 April – 16 July
*Espacio de Arte Contemporaneo de Almagro, Hospital de San Juan de Dios/Spain : 12 May – 19 June
*SENEF – Seoul Festival for Internet & Film – 01 May -01 July
*Art-in-Your-Face – Video Festival Malmoe/Sweden – 20-28 May
*Obsession- International Audio-Video Festival Istanbul/Turkey – 2-8 June
*Outvideo Festival Ekaterinburg/Russia 5 June – 5 July
*Hic et Nunc – San Vito a/Tagliamento/Italy – VideoChannel presentation – 11 June – 17 July
*Arcipelago – International Festival for Shortfilm and New Images 17-23 June
*51th Venice Biennale – Isola della Poesia – curated by Achile Bonito Oliva – June – Nov
*Museo de Arte Contemporáneo del ZULIA, MACZUL – Salon de Arte Digital – IV Edition – Maracaibo/VE 2005 – 20 June-2 July
*MAF'05 – New Media Art Festival Bangkok 2005 – 2nd edition 25 -29 June
*2nd Synch Festival – Electronic Music & Digital Arts – 1-3 July 2005
Digitraffic@Germany – SENEF 2005 – Seoul Net & Film Festival Seoul/South Korea 01 July – 01 Sept.
*Norwich Gallery – EAST'05 – Making Things Better – Norwich/UK – 02 July – 20 August
*That Uncomfortable Place Between Beginning and Ending, curated by Lee Wells – CINEMA – scopeHamptons New York/NY 15-17 July
*prog:ME – Electronic Art Festival Rio de Janeiro/Brazil – 18 July – 28 August
*AVANCA 2005 – Festival of Video & Multimedia Avanca/Portugal – 22-31 July
*2nd Media Art Festival Yerewan/Armenia – 9-30 August
*Luksuz Film Festival Lubljana/Slovenia 2-3 September
*3rd 0110 Digital Film Festival New Dehli/India – 05-08 September
*Museum of Contemporary Art Santa Fe/Argentina – Orilla#05
*Centro de Arte Caja de Burgos (CAB)/Spain: 9-30 September
*Lisbon Gay & Lesbian Film Festival 15-21 September Lisbon/Portugal
*Cyber Poem 2.1 – International Meeting of Digital Poetry – Barcelona/Spain 24 September
*Artium, Centro-Museo Vasco de Arte Contemporáneo, Vitoria/Spain: 30 September – 16 October
*Tomorrow Was the Day Before curated by Lee Wells – Cinema Scope London
*National Museum Szczecin/Poland – PI- " five – Video Festival 9-16 October
*Interferencias – International Festival of Art in Action-Junin/Buenos Aires-Argentina- 13-16 October
*Regina Gouger Miller Gallery at Carnegie Mellon University Pittsburg/USA – 14 October – 11 December
*FONLAD – Festival for Digital Art Coimbra/Portugal 22 Oct – 30 Nov
*TVSKY Screenings Nottingham/UK – 17-22 October
*FILE – Electronic Language Festival Sao Paulo/Brazil – 31 October – 05 November 2005
*V-Art05 – Videofestival Cagliari/Sardinien – 25-29 October
*Mostra Mundo Film Festival Recife/Brazil – 17 – 20 November
*SELECT Media 4 Festival Chicago/USA – 3-13 November
*FILE – Hipersonica 5 November
*Mezipatra – 6th Gay& Lesbian Filmfestival Prague/Czech Republic 17-20 November
*Asolo Art Film Festival – Asolo (Italy) 5-12 November
*MAEM – Electronic Art Festival Madrid/Mostoles 17-19 November
*Museu da Energia N̼cleo de Itu/Brazil -MOSTRA INTERNACIONAL DE POESIA VISUAL E ELETRONICA Р4-18 November
*VAD – Festival for Video and Digital Art – 9-12 November Girona/Spain
*MICROPOLIS – International contest for Digital Film & Video Athens/Greece- 30 November -20 January 2006
*Centre d'Art la Panera, Lleida/Spain: 3 – 29 November
*Museum of Contemporary Art – Biennale of New Media Art Santiago de Chile – 18-28 November
*Filmoteca Canaria del Gobierno de Canarias. Tenerife y Las Palmas de Gran Canaria/Spain: 25 November – 2 December
*Contemporary Art Centro Parraga, Murcia/Spain: 04-21 December


(38)
*New Media Festival Bangkok 2004 20 -28 March
*Globalization – online showcase on Wigged.net
*Centro de Arte Moderno Madrid (Spain) – Viernes Curvado curated by Antonio Alvarado – 20 February
*Version>04 Festival Chicago (USA) – 16 April – 01 May 2004
*Basics Festival Salzburg/Austria – 8-16 May
*Electronic Art Meeting – PEAM 2004 Pescara/Italy – 23-26 May
*VI SALON Y COLOQUIO INTERNACIONAL DE ARTE DIGITAL – Havanna (Cuba) -21 -24 June
* Festival of New Film and Media Split/Croatia (26 June-2 July)
*Seoul Festival for Internet & Film – SENEF – http://www.senef.net/
*Outvideo Festival Ekaterinburg/Russia -www.uralncca.ru/47/- June
*Belgrade Summer Festival – Open Screen Belgrade – 9 July –
*The Wiggle Room San Antonio TX (USA) – 14 July
*Avanca Film & Videofestival 2004 Avanca/Portugal – 21-25 July 2004 –
*InterFACES – digital print exhibition Silom Center Bangkok/Thailand 27 – 31 July
*public_space_festival Yerewan/Armenia – http://www.accea.org/- 23 July -03 August
*Westcoast Numusic & Electronic Art Festival Stavanger/Norway -23 – 30 August
*FAIM Madrid – El Viernes Curvado curated by Antonio Alvarado- 1-3 October
*Ars Electronica – Linz/Austria –
*RecyclingArt Festival – 3. Internationales RCA Festival in Berlin – 4 & 5 September
*Biennale of Electronic Art Perth/Australia – http://www.beap.org/- 7 September – 17 November
*Biennale de Montreal 2004 – http://www.ciac.ca/biennale2004 – curated by Anne-Marie Boisvert – La ville virtuelle –
*F5 – International Exhibition of Digital Art – Visual Art Center Santiago/Chile (C.A.V.S.)
*24 hours Film Festival Nuremberg/Germany – [Meeting] video – 15/16 October –
*Orilla-04 -International Exhibition of Digtal Art – Museum of Contemporary Art Santa Fe (Argentina)
*FILE Electronic Language Festival Sao Paulo/Brazil
*404 New Media Art Festival Rosario/Argentina -7 -15 December
*Stunned Net Art Open
*University of Bremen/Germany – 18 December


(38)
*MAD03 – Electronic Art Festival Madrid –
*Asolo Art Film Festival – Asolo (Italy)
*Nth ArtExhibit.001 – Nth Art Collective London/UK-
*Computer Space Festival – Netart from German speaking countries by JavaMuseum
*MAEM 2003 – Electronic Art Mostoles -Madrid (Spain)
*Feria Estampa Madrid (Spain) MAEM – en [code] ed – 26-30 November 2003
*Ground of my studio – show of Maya Kalogera at Gradec Gallery, Zagreb/Croatia
*Centro de Arte Moderno Madrid (Spain) MAEM – en [code] ed – 19 December 2003
*Next5 Minutes Festival – Media Library – Amsterdam/Netherlands
*Moving Media Multiplicator Vienna (Austria)
50th Venice Biennale – Venice (Italy) Wandering Library Project curated by Doron Polak
*Artemedia 2003 Universidad Maimonides Buenos Aires/Argentina
*FiFI Festival 2003 – Paris (France)
*File 2003 – Electronic Language Festival Sao Paulo (Brazil)
*Digital Sur Festival- Arte Digital Rosario 2003 – Rosario (Argentina)-
*Nonetart Festival – Arte Digital Rosario 2003 – Rosario (Argentina)
*8th International Festival of New Film – Split/Croatia
*Pula off – 50th Pula Filmfestival – Cinemania(c) – Pula (Croatia)
*New Forms Festival Vancouver (Canada)
*Fibreculture Conference 2003 – Brisbane/Australia :: Digital Literacies :: New Media Arts Exhibition
*Film and New Media Festival Lancaster (UK)
*Open air at Royal Gardens (Copenhagen/Denmark) curators Pio Diaz and Eva Sjuve
*Interactiva – 03 – Biennale for New Media Art – Museum of Contemporary Art Merida/Mexico
*Galerija ULUPUH Zagreb/Croatia – cinemania(c) + digitaldiary – curated by Branca Bencic
*PEAM 2003 – Electronic Art Festival 2003 Pescara/Italy
*Kunst aus Strom Festival/Art from Electric Power Festiva Nürnberg/Germanyl
*Kinokaze – Open Screen Belgrade (Serbia & Montenegro) – May 2003
*NetArt Open 2003 – Irish Museum of Modern Art (IMMA) Dublin
*Web Biennial 2003 – Istanbul Museum Istanbul (Turkey)
*Chiang Mai 1st New Media Art Festival – Chiang Mai (Thailand)
*Videoformes – 18th Video and Multimedia Festival Clermont-Ferrand (France)
*(6th) Media Arts Festival, Tokyo Metropolitan Museum of Photography 27 Feb to 9 March
*Machinista Media Festival Perm/Russia
*Sala Apta – exhibition at Centre de Arte Moderno Quilmes/Buenos Aires (Argentina) –
*3rd Audiovisual Festival Lille/France
*V SALON Y COLOQUIO INTERNACIONAL DE ARTE DIGITAL – Havanna (Cuba)
*New Media Nation – Festival of Festivals, Bratislava/Slovakia
*No War Media Marathon Berlin/Ger


(42)
*File 2002 – Electronic Language Festival Sao Paulo (Brazil)
*Digitalclip Festival – GAM – Galleria Civica d'Arte Moderna e Contemporanea Torino (Italy)
*Medi@terra – Festival 2002 – Fournos Cultural Centre Athens (Greece)
*Mediahexa Festival Seoul (Korea)
*ART IN TRANSIT – Video, CD ROM, etc curated by Caterina Davinio
*Cyborg 01 Festival – III International Arts Festival Valencia/Venezuela
*X Canarias International Festival of Video & Multimedia
*Sala Roja – exhibition at Centre de Arte Moderno Quilmes (Argentina)
*III. INTERPOETRY Exhibition Sao Paulo (Brazil)
*e-magic – cybermedia events – 43th International Filmfestival Thessaloniki (Greece)
Condition of the Cube – Art Festival Klodzko Art Centre (Poland)
*Computer Space Festival 2002 Sofia (Bulgaria) 18 – 20 October
*5th International Meeting of Experimental Poetry Buenos Aires (Argentina)
*Peace and Human Security Media Festival – New York (USA)
*VideoMarathon Contemporary Art Centre Chisinau (Moldavia)
*Liberarti – Liverpool Biennial (UK)
*//Reload//-" NetArt Open 2002 – Istanbul Museum Istanbul (Turkey)
*Asolo Art Film Festival – Asolo (Italy)
*August Art 2002 Festival New York (USA)
*ISEA 2002 Nagoya (Japan) – net based work – Electronic Theatre
*Cinemania(c) – exhibition at 49th Pula Filmfestival – Pula (Croatia)
*Terror" exhibition at DRCCC (Australia)
*Version02 – Museum of Contemporary Art Chicago (USA)
*THAW 02 – film, video, digital and sound festival – Iowa City (USA)
*17th Videoformes Festival – Clermont Ferrand (F)
*Violens Festival Tábor – Violence Online Festival (Czech Republic)
*COOP Media Festival – Museum of Contemporary Art Bucaresti (Romania)
*IV SALON Y COLOQUIO INTERNACIONAL DE ARTE DIGITAL – Havanna (Cuba)
*12-12 -Time Based Web Cast – 18 May – Cardiff School of Art & Design
*'Visions Festival at St. Kilda Film Festival – Melbourne (Australia)
*2002 International Flag Art Festival Seoul (Korea)
*Arte por Borges – Centre de Arte Moderno Quilmes (Argentina)
*HAZE – hive-projects Toronto (Canada)- 21 April 2002
*Con|text – Stasis_Space – curated by John Kannenberg (UK)
*Free Manifesta/Manifesta 4 – Kunstverein Frankfurt (Germany)
*Free Biennial New York (USA)
*The Open Museum – Irish Museum of Modern Art (IMMA)
*About Vision – digital art exhibition London (UK)
*Artists respond on 9/11 – Mercury Productions
*Prix Ars Electronica Linz (Austria)
*New Media Line – online exhibition on KanonMedia, Vienna (Austria)


(30)
*16th Videoformes Festival Clermont Ferrand (F)
*Art Of Torture – Art against Torture – NCCA Kaliningrad (Russia)
*Condominium – Webart at – HICETNUNC 10 – San Vito a/T (Italy)
*Lite Show Festival at Boston Cyber Art Festival 2001 (USA)
*Station Rose WebCast Lounge at Art Frankfurt (G)
*Net-z-lab Internet Award 2001 Nomination Chemnitz (D)
*Snow Blossom House at Sonar Festival Barcelona 2001 (Spain)
*49th Venice Biennale – Azione Parallela Bunker by Caterina Davinio
*File – Electronic Language Festival 2001 Sao Paulo and Curitiba City (Brazil)
*Biennale de Cerveira 2001 (Portugal)
*Media Art Festival Friesland 2001 (The Netherlands)
*Circus 2001 Conference Glasgow (UK)
*ARCO WebArt Award
*Prix Ars Electronica – A Virtual Memorial
*Computer Space 2001 Sofia (Bulgaria)
*2nd INTERPOETRY Exhibition Sao Paulo (Brazil)
*DMF2001 – Digital Media Festival 2001 Manila (Philippines)
*Casting a Net – McLean Project for the Arts (Virginia/USA)
*Viper Media Festival Online Competition (Switzerland)
*Documenta USA – MONA (Museum of New Art) Detroit (USA)
*Art on the Net – Postcagian Interactive Sounds (Japan)
*Pixxelpoint Computer Art Festival Nova Gorizia (Slovenia)
*4th International Meeting of Experimental Poetry Buenos Aires (Argentina)
*Net_working – Exhibition at Watershed Media Centre Bristol (UK) and
*4th International Conference on Modern Technology and Processes for Art, Media and Design, Bangkok (Thailand)
*Digital Salon – VII International Biennale of Painting Cuenca (Ecuador)
*Artists respond on 9/11 – Mercury Productions –
*Trash Project – Experimenta (Australia)
*Links/Ligacoes Conference and Prize OPORTO (Portugal)
*Torino Digital Clip Festival (Italy)


Participations (2)
Exchange 2000 Bristol (UK) – Watershead Media Centre
Werkleitz Biennale (Germany)

Solo exhibitions and exhibitions of the 2nd life





2009
CeC – Carnival of e-Creativity Sattal/India 27 Feb – 1 March 2009
Retrospective "Some Minutes of A Time – time based art 2004-2008
http://www.theaea.org/cec_cac/cec09/index.htm
2008
MACZUL – Museum of Contemporary Art ZULIA Maracaibo/Venezuela
Solo presentation of "Some minutes of a Time" videos 2004-2008 in the framework of Salon de Arte Digital 1-8 October 2008
Les Abbatoirs – Museum of Contemporary Art Toulouse/France
Traverse Video Festival Toulouse/France
15 March – solo presentation of a selection of videos
Le moment d'Agricola de Cologne, Musee des Abattoirs Toulouse/F
Bareback – serial DIScharge / House of Tomorrow / Rivals and Friends / Urban.early sunday morning_raw: / One Day on Mars / Inability of Being Nude
2007
://selfportrait – a show for Bethlehem – a show for Peace
MACRO – Contemporary Art Museum Rosario/Argentina
MACRO – Museo de Arte Contemporaneo Rosario/Argentina
02 February – 30 March
2006
://selfportrait – a show for Bethlehem – a show for Peace
Casoria Contemporary Art Museum Naples/Italy
4. Casoria Contemporary Art Museum Naples/Italy
16 December 2006 – 31 January 2007
3. Museum of Contemporary Art Santa Fe/Argentina
06 – 30 December 2006
2. Offizyna Art Space – Szczecin/Poland
20 October – 20 November
1. Al Kahf Art Gallery Bethlehem/Palestine –
06-30 July 2006- www.annadwa.org/
2005
Al Kahf Art Gallery Bethlehem/Palestine
R][R][F] 2005 – XP 17 February – 14 March www.annadwa.org/
2004
National Museum of Contemporary Art Bucharest/Romania –
[R][R][F] 2004–>XP – http://www.mnac.ro/ – 05 March – 30April

Biennale of Electronic Art Perth (Australia)
Central Taffe Gallery
[R][R][F] 2004–>XP – http://downloads.nmartproject.net/beap_2004.pdf – 7 Sept-17 Nov 2004
Selection years 1987-1999
1998-1995
1995 A Living Memorial Spaces of Art
Memorial project against the Forgetting, Racism, Xenophobia and Antisemitism
43 Installations in Germany, Poland, Czech Republic
1998
Antonite Church Cologne
Media Bibliotheque City of Cologne
Memorial Camp Neuengamme Hamburg
Berlin Köpenick Bloody Week Memorial
Synagogue Wittlich
City Art Gallery Gladbeck
Salvation Church Duisburg
Synagogue Urspringen
Parliament of Nordrhein-Westfalen Düsseldorf
1997
Cultural Centre Old Town Hall Potsdam
University Museum Halle/S
HATIKVA Dresden
City Archives Leipzig
Völkerschlachtdenkmal Leipzig
Historical Museum City of Leipzig
Old Nikolai School Leipzig
University Art Gallery Leipzig
Memorial Camp Dachau
Terezin Memorial (Czech Republic)
Breitenau Memorial Guxhagen/Kassel
Castlemuseum Sondershausen
Synagogue Affaltrach
Synagogue Michelbach/Lücke
City Museum Salzwedel
Auschwitz Foundation Brüssel
1996
City Art Gallery Czestochowa (Poland)
City Art Gallery Zgorzelec (Poland)
Parliament of Thuringia Erfurt (Germany)
Memorial Camp Wöbbelin
DocumentationCentre (former. Stasi-Prison) Magdeburg
Parliament of Sachsen-Anhalt Magdeburg
Schalom House Schönebeck
Volkshochschule Hannover
1995
Historisches Archiv der Stadt Köln (Germany)
State Museum Majdanek Lublin (Poland)
Muzeum Okregowe Bialystok (Poland)
Muzeum Okregowe Siedlce (Poland)
State Museum Stutthof (Poland)
Museum Okregowe Sandomierz (Poland)
State Museum Auschwitz (Poland)
Historical Museum City of Krakow (Poland)
Schlesisches Museum Katowice (Poland)
1992/93 Plenty of Truth IV (Russia/Lithuania)
Königsberg (Russia) Museum of History and Art
Sovetsk (Russia) Museum of History and Art
Kunsthalle Klaipeda (Lithuania)
M.K. Ciurlionis Atrt Museum Kaunas (Lithuania)
Kedainiai City Art Gallery (Lithuania)
Siauliai City Art Gallery (Lithuania)
1994 Divisionistic Allusions (Poland)
Katowice Art Center
Kunstverein Lublin
Museum Okregowe Zamosc
Museum Okregowe Chelm
1992/93 Plenty of Truth III (Germany/Poland)
Zwickau City Art Gallery
City Museum Zittau
Muzeum Okregowe Walbrzych
State Art Gallery Jelenia Gora
Boleslawiec City Art Gallery
City Museum Bautzen
Zgorzelec City Art Gallery
1991 La lueur du temps II (Germany, Poland)
City Museum Halberstadt
Kunsthalle Bad Kösen
Art Museum Görlitz
Zgorzelec City Art Gallery (Poland)
Boleslawiec City Art Gallery (Poland)
1990/91 Plenty of Truth (Great Britain)
Museum & Art Gallery Tunbridge Wells
Museum &Art Gallery Great Yarmouth
Aberdeen Arts Centre
MacRoberts Art Centre Stirling
Museum & Art Gallery Buxton
1990 La Lueur du temps (Germany/France)
Hans Thoma Museum Bernau
Schlosspark Museum Bad Kreuznach
Musée du Pays de Sarrebourg
1990/91 Portrait of the artist (Germany)
Holbein House Augsburg
Prinzesshof Museum Itzehoe
Kunstverein Ahrendsburg
District Museum Syke
District Museum Tecklenburg
1989/90 Le point de vue imaginaire – the allegoric principle
Germany, Belgium, Great Britain
Soest City Art Gallery
Kunstverein Erlangen
Kunstverein Geislingen
Kunstverein Bretten
Maclaurin Art Gallery Ayr
Provinciaal Museum Leuven
Museum & Art Gallery Inverness
Museum & Art Gallery Beverly
University Art Gallery Nottingham
Museum & Art Gallery Buxton
Gray Museum & Art Gallery Hartlepool
1988/98 Dans la lumiere de l'imaginaire (Germany/France)
Galerie Arthaud Grenoble
Albi City Art Gallery
Wetzlar City Art Gallery
Altena City Art Gallery
1987/88 Aufbruch und Befreiung (Percee et Liberation)
Germany /France
Wesseling City Art Gallery
Kunstverein Nordeham
Kunstverein Hofgeismar
Maternushaus Cologne
Simultanhalle Cologne
Kronach City Art Gallery
Musee du Perigord Perigueux
Centre d'Art Contemporain Agen