artvideoKOELN

Founded in 2010 as the curatorial initiative "art and moving images" continuing the wide range of activities around "art & moving images" and the challenging audio-visual medium of video since 2004, artvideoKOELN is a media art project context created, directed & curated by Wilfried Agricola de Cologne.
As such it is the multi-functional operating system behind all project activities, th executive tool used by Agricola de Cologne as an all encompassing network of multiple functions like the festival director, the curator, the multimedia developer, the mediator, the artist, the secretary etc, and is collecting and preserving the activities as artistic actions, and is representing this way also a museum collection departmnent.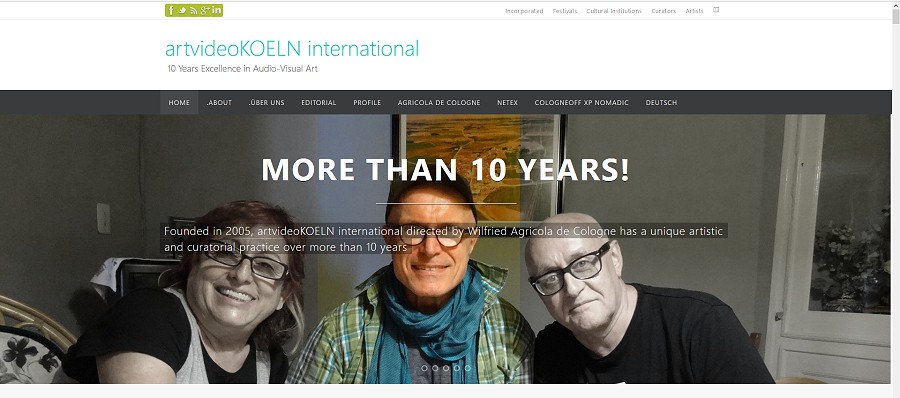 Acting within a global network of partners, i.e. festivals, cultural institutions, curators and artists, artvideoKOELN international incorporates the festival platform "CologneOFF – International Festival Network" including CologneOFF – Cologne International Videoart Festival, 1 minuteCOLOGNE – Cologne One Minute Film Festival, animateCologne – Cologne Art & Animatioon Festival and exDox – experimental documentary film festival, and the curatorial platform VideoChannel and inorporated projects like VIP _ VideoChannel Interview Project, VAD _ Video Art Database, AND _ Artists Network Database, but also the ambitional Collective Trauma Film Collections (CTF) – featuring Shoah Film Collection (SFC) & Cambodia 1975-1979, and the activities around A Virtual Memorial International Center for Commemorative Interventions (AVMCI).
CologneOFF – is a worldwide unique project of its kind, a mobile and nomadic festival featuring video as an audio-visual art medium in a global context, operating from Cologne/Germany exporting experimental artfilms and art videos in cooperation with networking partners all over the world.
Founded in 2005 by Wilfried Agricola de Cologne, CologneOFF was celebrating in 2014 its 10th anniversary by launching the 10th festival edition under the motto "Total Art" (Gesamtkunstwerk). In 2015, artvideoKOELN became an event format of its own – artvideoKOELN – audiovisual experiences, launched in Cologne in May 2015 @ the German-Japanes Cultural Centre TENRI.

CologneOFF X – Total Art – http://coff10.newmediafest.org
CologneOFF IX – Beyond All – http://coff09.newmediafest.org
CologneOFF VIII – Continental Drift – http://coff08.newmediafest.org
ColognOFF Vii – Art & the City – http://coff07.newmediafest.org
cologneOFF VI – Let's Celebrate – http://coff06.newmediafest.org
CologneOFF V – Taboo? Taboo! – http://coff05.newmediafest.org
CologneOFF IV – Here We Are – http://coff04.newmediafest.org
CologneOFF III – Toon! Toon! – http://coff03.newmediafest.org
CologneOFF II – Image vs. Music – http://coff02.newmediafest.org
CologneOFF I – Identityscapes – http://coff01.newmediafest.org
CologneOFF 0 – all editions – http://coff00.newmediafest.org
CologneOFF – The International Festival Network – http://coff.newmediafest.org/
artvideoKOELN – audiovisual experiences – http://ave.artvideo.koeln/
While in the Past many projects were realised by Agricola de Cologne independently from each other, and there was therefore only a limited coordination among the different project platforms,artvideoKOELN has the function to work as the operating system for all current and future projects and keep the past projects running and preserved for The New Museum of Networked Art.